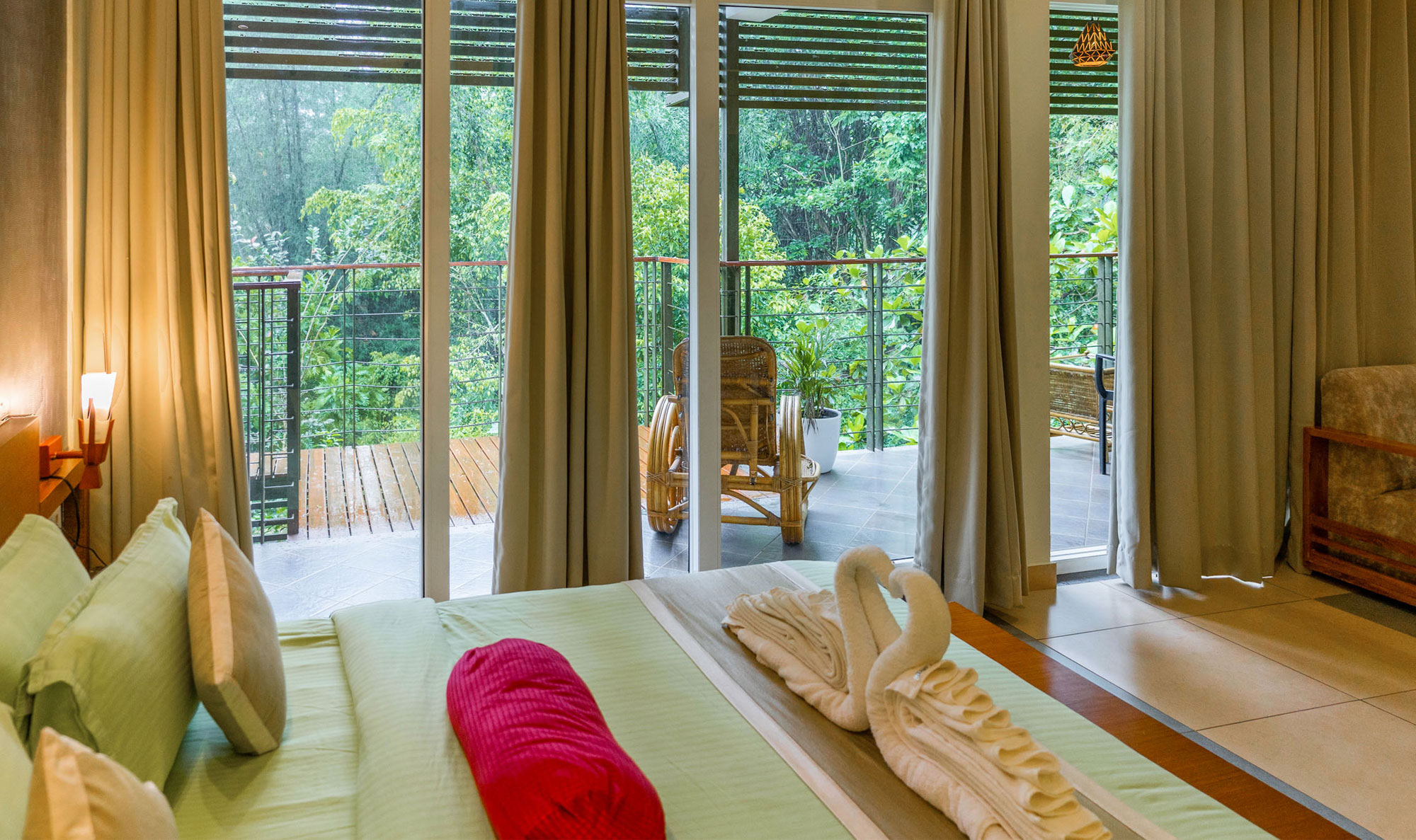 Honeymoon Cottage with Plunge Pool
Welcome to our luxurious retreat, nestled on a secluded island in the Kabini River. The Honeymoon Cottage with Plunge Pool is an ideal choice for couples seeking a blend of romance and comfort amidst nature. This accommodation boasts a king-size bed, a private plunge pool, elegant contemporary decor, and a private balcony overlooking the serene Kabini River.
The cottage is furnished with modern conveniences such as air conditioning, flat-screen TV, minibar, tea/coffee maker, and an en-suite bathroom complete with plungepool to suit your taste of best rooms in Wayanad.
At Kuruva Island Resort and Spa, guests can immerse themselves in various activities like jungle treks, bird watching, and kayaking. Our spa offers traditional Ayurvedic massages and other treatments to rejuvenate your senses. Relish diverse culinary delights at our restaurant, crafted with fresh local ingredients. Our chefs are also adept at creating custom meals to suit individual preferences.
Wayanad is a haven for honeymooners with its lush green resorts offering the perfect blend of intimacy, luxury, and nature. Indulge in the extravagance of private pools, couples' spa treatments, and candlelit dinners. Our commitment is to provide impeccable personalised service, ensuring your stay becomes a cherished memory.
At Kuruva Island Resort and Spa, we aim to offer our guests a complete experience, which includes various activities and dining options. Our resort offers a variety of activities, such as jungle treks, bird watching, kayaking, and much more. Our spa provides a range of treatments, including traditional Ayurvedic massages, to help you relax and rejuvenate. Our restaurant offers a selection of local and international cuisines, prepared with fresh, locally-sourced ingredients. We cater to all dietary requirements, and our chefs are happy to create customised meals upon request.
Book your stay at the best Honeymoon resorts in wayanad at Kuruva Island Resort and Spa, and experience unparalleled luxury amidst the captivating beauty of nature.