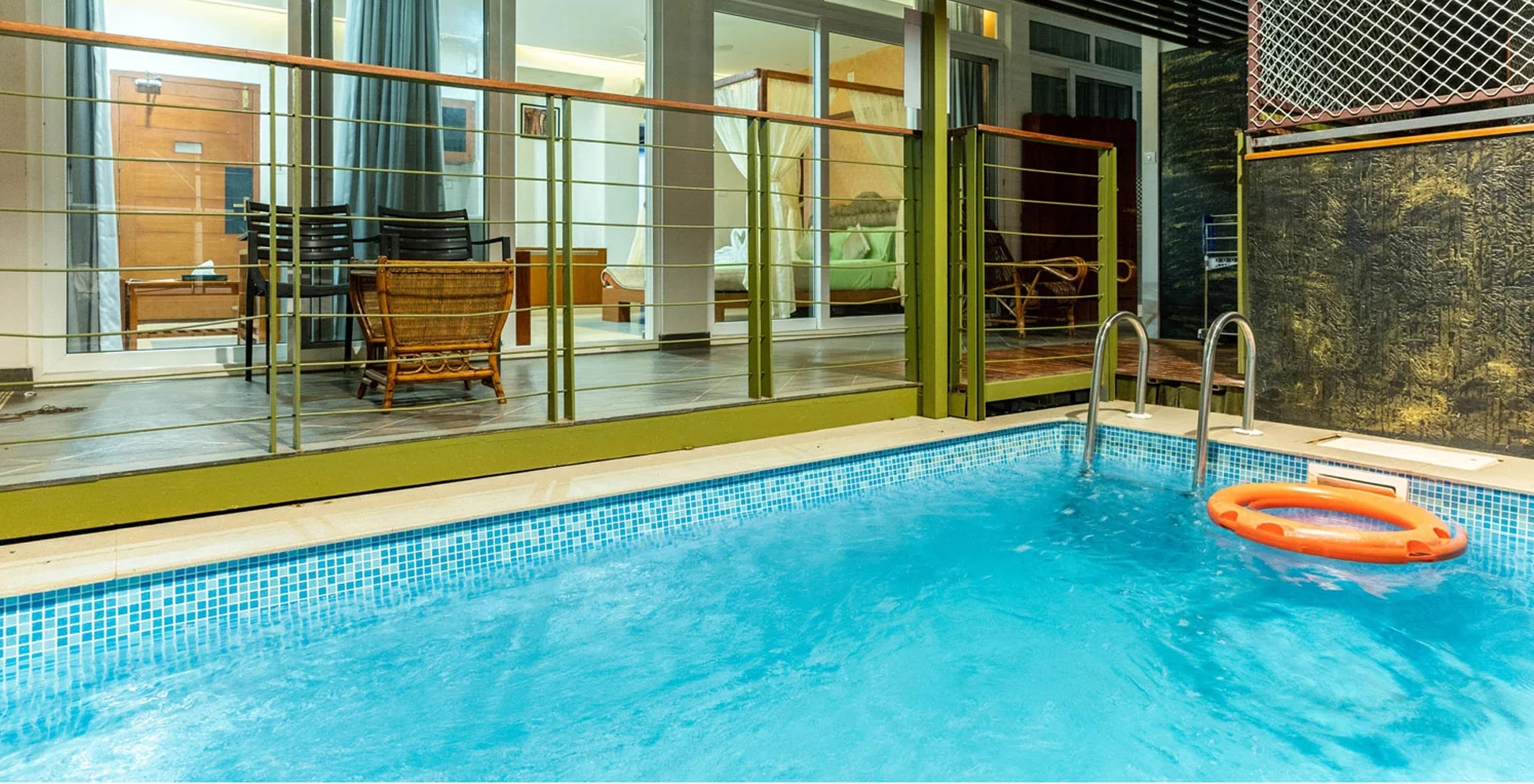 Honeymoon Cottage with Private Pool
Experience the epitome of luxury and romance with a honeymoon in a private pool room at Kuruva, a breathtaking destination nestled amidst nature's splendour. As you enter, you will be greeted by an ambiance that exudes tranquillity and enchantment.
Your private pool room at Kuruva is a haven of opulence, designed to offer seclusion and intimacy for newlyweds seeking an unforgettable escape. Situated amidst lush greenery and overlooking a serene river, this accommodation combines the beauty of nature with modern comforts.
The highlight of our private pool room is, undoubtedly, the enchanting pool that awaits you. The pool offers you complete privacy, allowing you to relax and unwind in the company of your loved one. Imagine spending languid afternoons basking in the sun-drenched water and revealing in each other's company. As the evening sets in, the pool transforms into a romantic oasis, where you can float under a star-studded sky, creating cherished memories that will last a lifetime.
To enhance your stay, the room is equipped with modern amenities that cater to your every need. A plush king-sized bed invites you to indulge in blissful slumber, while a cozy seating area provides a perfect spot for intimate conversations. The ensuite bathroom boasts luxurious fixtures, a rain shower, and a deep soaking tub, offering you a sanctuary within a sanctuary.
In addition to the privacy and comfort of your room, Kuruva offers a range of activities and experiences to enhance your honeymoon. From romantic walks along the riverbank to candlelit dinners under the moonlight, every moment spent here is designed to ignite the flames of love and create cherished memories.
A honeymoon resort in Wayanad with a private pool is exclusive at Kuruva is a celebration of love, intimacy, and pure indulgence. It is an experience that transcends the ordinary and elevates your romantic journey to new heights. Perfect as it is one of the best resorts in Wayanad for couples with a private pool to immerse themselves in the beauty of nature, relish the seclusion of your private oasis, and create a chapter in your love story that will be cherished forever.